40th Annual Kaw Valley Woodcarvers Show
Ramada Downtown 420 SE 6th Avenue Topeka, Kansas 66607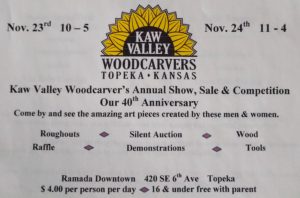 The 40th Annual Kaw Valley Woodcarvers show will be November 23-24, 2019 in Topeka, Kansas. This is the weekend preceding Thanksgiving. The 40th annual show, sale and competition will be held at the Ramada Downtown. The show hours are Saturday 10-5 and Sunday 11-4.
A block of rooms have been set aside for our show. To reserve your room please call Ramada Downtown, 785-234-5400. Tell the desk clerk that you would like the WOODCARVERS SPECIAL rate. A buffet breakfast is provided with each reservation.
Entry forms and fees are to be mailed to:
Kaw Valley Woodcarvers, P.O. Box 8603, Topeka, KS 66608. Please attach show entry form with your mailing. Show entry form 2019
We look forward to seeing you at our show as a visitor, exhibitor and competitor or to purchase supplies from one of our vendors.
For Questions contact:
Katrina Meredith – co-chair kmeredith605@gmail.com 785-249-4958
Joan Smith – co-chair joan@tbfcarving.com

Rules and Categories for Judging